A woman is criticized by reddit using her for refusing to stop her husband from making "cruel" comments about her sister infertility.
in Mail Shared with Reddit's Am I a ******? Forum (AITA) On September 5, user u / RAthrowRA30136 clarified that her sister and husband do not agree, which is infuriated by the husband's "opinions" about in vitro fertilization (IVF).
age and fertility
a recent study A study by Johns Hopkins University found that about 7 percent of American women are infertile. Through a survey of 53,764 women, researchers found that women between the ages of 40 and 44 were 11 times more likely to experience infertility than younger women. Women who had not recently received sexual health care were 61 percent more likely to experience infertility than those who did.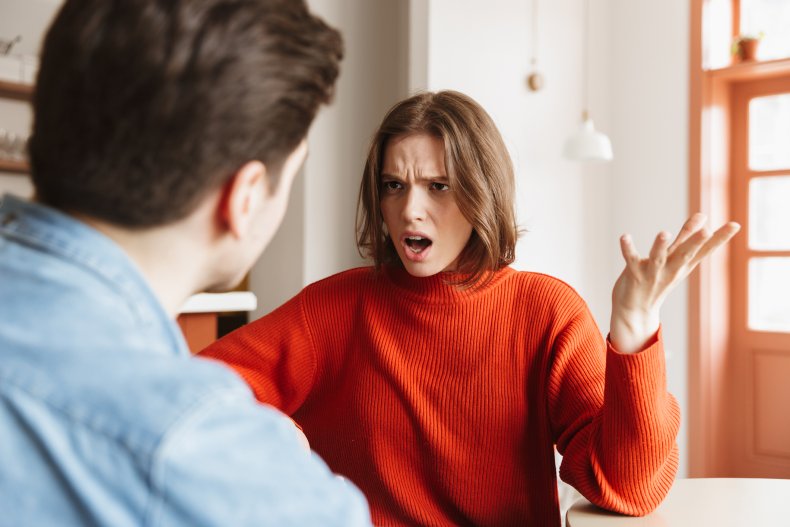 The latest 2019 statistics from the Society for Assisted Reproductive Technology show that the IVF success rate for a woman under 35 who gives birth to a healthy baby via IVF (using her own eggs) was 51 percent. This percentage drops to 38.3% for those aged 35-37, and 25.1% for women They are between 38 and 40 years old.
Female infertility can also be caused by a number of factors such as sexually transmitted diseases, health conditions such as endometriosis or pelvic inflammatory disease, as well as smoking.
'Deliberately cruel'
The poster, who is 31, said her 35-year-old sister has been infertile for years. The sister used to receive questions and comments from people about when to have children, but the poster claims she focuses on her husband's words to an "excessive" degree, particularly his "disingenuous comments".
She wrote: "She once claimed he told her that 'women in their thirties have lower chances of conceiving.'"
Or on one occasion she claimed he ridiculed her barrenness by describing her garden as 'barren' just like hers.
The poster said her husband was the type to "cook" her and that her sister "never liked him anyway". However, it came to a head while having a family meal at her parents' house.
She wrote: "My sister came down later while my mother and I were in the kitchen.
"She told me that my husband suggested she back out of the IVF treatment and find 'better use for the money' when she announced her desire to try IVF.
"I kept talking about how insensitive and hurt his words were. I felt upset [and] I told her she was right to be angry but she needed to stop coming to me complaining about him like he was my son, and try to talk to him instead."
The sister "picked up" this reply and said that she had already talked to her husband to no avail. She told the poster that as his wife, she had to "deal with him".
"I told her her reasoning didn't make any sense but she called me as selfish and cruel as he was," she wrote.
Their mother stood by her sister, telling the poster that she was enabling her husband to act badly. The couple left immediately, but when they got home, the husband accused the sister of trying to get into a fight for no reason.
"He was only giving his honest opinion when she IVF and said if she had a problem with him she should tell him in the face," she wrote.
"He also said that she might be looking for an excuse to pick a quarrel with me and that I'm innocent and have nothing to do with this despite her trying to get involved with me.
"She hasn't spoken to me or my parents yet."
Reddit users agreed that the poster and her husband were wrong, with the story receiving nearly 6,000 votes and over 2,000 comments at the time of writing.
"Tell your husband to shut his mouth," said CrystalQueen3000.
"What a horrible reckless man I married, don't look too far behind."
"I totally agree," Rational wrote at times. "But I think calling him reckless is letting him be taken lightly. I think he's intentionally cruel."
Allthings_ii commented: "[You're the a******]you and your husband. A match made in heaven."
While LetThemEatHay said, "Fertility problems are incredibly personal and there is absolutely no place for your husband to 'get away' from them."
"You should be absolutely ashamed of your husband's abhorrent behavior. And his empowerment!"
NEWSWEEK Reached out to u/RAthrowRA30136 for comment. We were unable to verify the details of the case.
If you have a similar family dilemma, let us know at life@newsweek.com. We can seek advice from experts, and your story can be featured on Newsweek.