Except for the week he was skiing at Sabers development camp last month, the summer has been mostly quiet for Owen Power. Unusually long too. This is close to change.
The opening of the first NHL junior training camp in just over three weeks will get the hype machine up to speed with Power expected to be in the midst of the battle for Calder Trophy as the NHL Newcomer of the Year.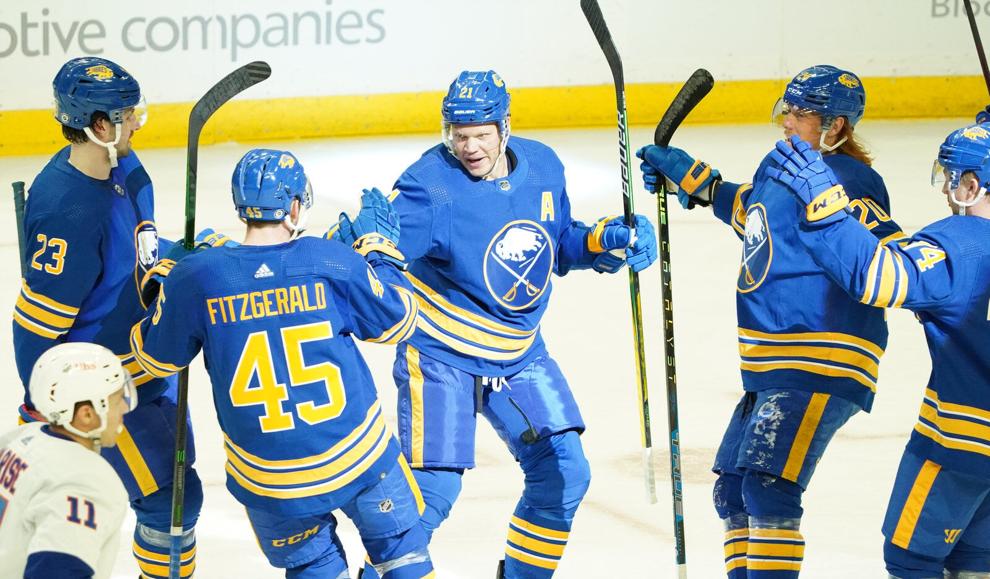 It's been an hour before Bison's game and an hour after the Bills' pre-season game, but all the ruckus was over having the saber in the house. And when the team aired a clip of veteran Kyle Okposo speaking to players at development camp last month, its message was clear: People can't wait for the hockey season.
There will be no shortage of candidates to join Power from the enlistment class for 2021, including former University of Michigan teammates Matty Benners (Seattle) and Kent Johnson (Columbus), and Mason McTavish of Anaheim. And last month's star-studded top four in Montreal — Montreal's Juraj Slavkowski, New Jersey's Simon Nemec, Arizona's Logan Cooley and Seattle's Shane Wright — will be in the mix, too.
The Sabers have only had three Calder winners in their history, the last being Tyler Myers in 2010. Gilbert Perreault (1971) and Tom Barrasso (1984) also won the award.
Bauer said recently in a conversation with The News while attending "Hockey Night" at Bison in Sahlin Square. "But at the same time, I don't get caught up in these things. I just try to control what I can control and stick to the process."
Power could have been on top of Calder's list anyway based on his performances in college and international play. But his eight games at the end of last season with the Cypress have made it crystal clear why he has been top overall for nearly 14 months.
Power had his first two goals in the NHL, added an assist and compiled a plus-3 rating for Buffalo. His poise on the blue and calm demeanor with the puck was evident as he averaged 22:05 per game of icy time and Corsi for a 56.9% rating.
This performance gave Sabers fans plenty of food to think about. So did the 6-foot-6 strength stint at development camp, when he outdid many of the Sabers prospects. Power continued to skate for several weeks, but this summer without prep work for junior hockey Canada or returning early to school in Michigan.
"It's definitely different," he said. "It's rare, and the summer is a little bit longer, too." "I was actually going back (to Michigan) now. So it was good to take a break and be home and relax."
Power declined to comment on the training change in Michigan, as Mel Pearson's contract was not renewed earlier this month following multiple allegations of a toxic environment within the program. Brandon Norato's assistant has been promoted to temporary head coach.
But as for Sabers, Power said he enjoyed the fan support the team got in April and was surprised by the turnout for his autograph on the field.
"You can tell the fans are excited here. It's exciting for us too," he said.
Power said he's mostly stayed around his home in Mississauga, Ont., this summer, although he found some excitement in June while attending a Blue Jays game in Toronto.
That came when Danny Janssen's ball caught Bauer as he sat in the left field benches at Rogers centre. Carrying a bag of popcorn, Bauer stood up to collect the ball but could not play.
"I was getting back to my seat, I heard the bat and didn't really think about it," Bauer said shyly. "I thought, 'There's no way coming towards me.'" And then I saw everyone in my department sort of standing with their arms up. So I looked up trying to find him. He sure kinda fits me. It's a pity I couldn't catch him. ."
Bauer said he received a lot of text messages on his phone due to the error in playback.
He said: "Quite a few people saw it." "It was funny."