Serena gets set point with a comfortable rally. She closes it out with an ace.

","elementId":"6b42d398-4307-477d-a0d1-048101e42e69″},{"_type":"model.dotcomrendering.pageElements.ImageBlockElement","media":{"allImages":[{"index":0,"fields":{"height":"1393″,"width":"2320″},"mediaType":"Image","mimeType":"image/jpeg","url":"https://media.guim.co.uk/fadba6acf2cbbee9b207f657fa3a55e3d62c4a82/955_1852_2320_1393/2320.jpg"},{"index":1,"fields":{"isMaster":"true","height":"1393″,"width":"2320″},"mediaType":"Image","mimeType":"image/jpeg","url":"https://media.guim.co.uk/fadba6acf2cbbee9b207f657fa3a55e3d62c4a82/955_1852_2320_1393/master/2320.jpg"},{"index":2,"fields":{"height":"1200″,"width":"2000″},"mediaType":"Image","mimeType":"image/jpeg","url":"https://media.guim.co.uk/fadba6acf2cbbee9b207f657fa3a55e3d62c4a82/955_1852_2320_1393/2000.jpg"},{"index":3,"fields":{"height":"600″,"width":"1000″},"mediaType":"Image","mimeType":"image/jpeg","url":"https://media.guim.co.uk/fadba6acf2cbbee9b207f657fa3a55e3d62c4a82/955_1852_2320_1393/1000.jpg"},{"index":4,"fields":{"height":"300″,"width":"500″},"mediaType":"Image","mimeType":"image/jpeg","url":"https://media.guim.co.uk/fadba6acf2cbbee9b207f657fa3a55e3d62c4a82/955_1852_2320_1393/500.jpg"},{"index":5,"fields":{"height":"84″,"width":"140″},"mediaType":"Image","mimeType":"image/jpeg","url":"https://media.guim.co.uk/fadba6acf2cbbee9b207f657fa3a55e3d62c4a82/955_1852_2320_1393/140.jpg"}]},"data":{"alt":"Serena Williams covers the court.","caption":"Serena Williams covers the court.","credit":"Photograph: Seth Wenig/AP"},"displayCredit":true,"role":"inline","imageSources":[{"weighting":"inline","srcSet":[{"src":"https://i.guim.co.uk/img/media/fadba6acf2cbbee9b207f657fa3a55e3d62c4a82/955_1852_2320_1393/master/2320.jpg?width=620&quality=85&auto=format&fit=max&s=b37d52430845e0ac82c5af2c8ad951fa","width":620},{"src":"https://i.guim.co.uk/img/media/fadba6acf2cbbee9b207f657fa3a55e3d62c4a82/955_1852_2320_1393/master/2320.jpg?width=620&quality=45&auto=format&fit=max&dpr=2&s=8d0908fa087abded2868dde4547c61b9″,"width":1240},{"src":"https://i.guim.co.uk/img/media/fadba6acf2cbbee9b207f657fa3a55e3d62c4a82/955_1852_2320_1393/master/2320.jpg?width=605&quality=85&auto=format&fit=max&s=c821e64acd1def6079e7acd2d150f169″,"width":605},{"src":"https://i.guim.co.uk/img/media/fadba6acf2cbbee9b207f657fa3a55e3d62c4a82/955_1852_2320_1393/master/2320.jpg?width=605&quality=45&auto=format&fit=max&dpr=2&s=69e57ffce76012766896cf50880ccd85″,"width":1210},{"src":"https://i.guim.co.uk/img/media/fadba6acf2cbbee9b207f657fa3a55e3d62c4a82/955_1852_2320_1393/master/2320.jpg?width=445&quality=85&auto=format&fit=max&s=c4a5674e77149a6bd89226d0231f7321″,"width":445},{"src":"https://i.guim.co.uk/img/media/fadba6acf2cbbee9b207f657fa3a55e3d62c4a82/955_1852_2320_1393/master/2320.jpg?width=445&quality=45&auto=format&fit=max&dpr=2&s=749e5af208a5486e6512c83a0839fa28″,"width":890}]},{"weighting":"thumbnail","srcSet":[{"src":"https://i.guim.co.uk/img/media/fadba6acf2cbbee9b207f657fa3a55e3d62c4a82/955_1852_2320_1393/master/2320.jpg?width=140&quality=85&auto=format&fit=max&s=a5b5a5fb1151b2df827e13f080aa65ac","width":140},{"src":"https://i.guim.co.uk/img/media/fadba6acf2cbbee9b207f657fa3a55e3d62c4a82/955_1852_2320_1393/master/2320.jpg?width=140&quality=45&auto=format&fit=max&dpr=2&s=05523175a89cf670e372581c81b76269″,"width":280},{"src":"https://i.guim.co.uk/img/media/fadba6acf2cbbee9b207f657fa3a55e3d62c4a82/955_1852_2320_1393/master/2320.jpg?width=120&quality=85&auto=format&fit=max&s=c35935148db40ddfeec94c338b3b7ee5″,"width":120},{"src":"https://i.guim.co.uk/img/media/fadba6acf2cbbee9b207f657fa3a55e3d62c4a82/955_1852_2320_1393/master/2320.jpg?width=120&quality=45&auto=format&fit=max&dpr=2&s=d8e134a123fc57021925847b16c64bed","width":240}]},{"weighting":"supporting","srcSet":[{"src":"https://i.guim.co.uk/img/media/fadba6acf2cbbee9b207f657fa3a55e3d62c4a82/955_1852_2320_1393/master/2320.jpg?width=380&quality=85&auto=format&fit=max&s=ecc543ae1819527657efbd70e4ae41e1″,"width":380},{"src":"https://i.guim.co.uk/img/media/fadba6acf2cbbee9b207f657fa3a55e3d62c4a82/955_1852_2320_1393/master/2320.jpg?width=380&quality=45&auto=format&fit=max&dpr=2&s=33eb14a5fb733cc0e26f290702d20d56″,"width":760},{"src":"https://i.guim.co.uk/img/media/fadba6acf2cbbee9b207f657fa3a55e3d62c4a82/955_1852_2320_1393/master/2320.jpg?width=300&quality=85&auto=format&fit=max&s=cce2c2a950e287cbbfa87ff9dba67e3e","width":300},{"src":"https://i.guim.co.uk/img/media/fadba6acf2cbbee9b207f657fa3a55e3d62c4a82/955_1852_2320_1393/master/2320.jpg?width=300&quality=45&auto=format&fit=max&dpr=2&s=dd6f7454974510372d9caca95a82de86″,"width":600},{"src":"https://i.guim.co.uk/img/media/fadba6acf2cbbee9b207f657fa3a55e3d62c4a82/955_1852_2320_1393/master/2320.jpg?width=620&quality=85&auto=format&fit=max&s=b37d52430845e0ac82c5af2c8ad951fa","width":620},{"src":"https://i.guim.co.uk/img/media/fadba6acf2cbbee9b207f657fa3a55e3d62c4a82/955_1852_2320_1393/master/2320.jpg?width=620&quality=45&auto=format&fit=max&dpr=2&s=8d0908fa087abded2868dde4547c61b9″,"width":1240},{"src":"https://i.guim.co.uk/img/media/fadba6acf2cbbee9b207f657fa3a55e3d62c4a82/955_1852_2320_1393/master/2320.jpg?width=605&quality=85&auto=format&fit=max&s=c821e64acd1def6079e7acd2d150f169″,"width":605},{"src":"https://i.guim.co.uk/img/media/fadba6acf2cbbee9b207f657fa3a55e3d62c4a82/955_1852_2320_1393/master/2320.jpg?width=605&quality=45&auto=format&fit=max&dpr=2&s=69e57ffce76012766896cf50880ccd85″,"width":1210},{"src":"https://i.guim.co.uk/img/media/fadba6acf2cbbee9b207f657fa3a55e3d62c4a82/955_1852_2320_1393/master/2320.jpg?width=445&quality=85&auto=format&fit=max&s=c4a5674e77149a6bd89226d0231f7321″,"width":445},{"src":"https://i.guim.co.uk/img/media/fadba6acf2cbbee9b207f657fa3a55e3d62c4a82/955_1852_2320_1393/master/2320.jpg?width=445&quality=45&auto=format&fit=max&dpr=2&s=749e5af208a5486e6512c83a0839fa28″,"width":890}]},{"weighting":"showcase","srcSet":[{"src":"https://i.guim.co.uk/img/media/fadba6acf2cbbee9b207f657fa3a55e3d62c4a82/955_1852_2320_1393/master/2320.jpg?width=860&quality=85&auto=format&fit=max&s=7878be596d09d639a9c6042c0cddb8b6″,"width":860},{"src":"https://i.guim.co.uk/img/media/fadba6acf2cbbee9b207f657fa3a55e3d62c4a82/955_1852_2320_1393/master/2320.jpg?width=860&quality=45&auto=format&fit=max&dpr=2&s=ae23724e88d062834a2681abe7e2f0c8″,"width":1720},{"src":"https://i.guim.co.uk/img/media/fadba6acf2cbbee9b207f657fa3a55e3d62c4a82/955_1852_2320_1393/master/2320.jpg?width=780&quality=85&auto=format&fit=max&s=84c3158dd246a8a52e9665aa73c86180″,"width":780},{"src":"https://i.guim.co.uk/img/media/fadba6acf2cbbee9b207f657fa3a55e3d62c4a82/955_1852_2320_1393/master/2320.jpg?width=780&quality=45&auto=format&fit=max&dpr=2&s=207be06bfb9e61007a5d8fcc8a15d607″,"width":1560},{"src":"https://i.guim.co.uk/img/media/fadba6acf2cbbee9b207f657fa3a55e3d62c4a82/955_1852_2320_1393/master/2320.jpg?width=620&quality=85&auto=format&fit=max&s=b37d52430845e0ac82c5af2c8ad951fa","width":620},{"src":"https://i.guim.co.uk/img/media/fadba6acf2cbbee9b207f657fa3a55e3d62c4a82/955_1852_2320_1393/master/2320.jpg?width=620&quality=45&auto=format&fit=max&dpr=2&s=8d0908fa087abded2868dde4547c61b9″,"width":1240},{"src":"https://i.guim.co.uk/img/media/fadba6acf2cbbee9b207f657fa3a55e3d62c4a82/955_1852_2320_1393/master/2320.jpg?width=605&quality=85&auto=format&fit=max&s=c821e64acd1def6079e7acd2d150f169″,"width":605},{"src":"https://i.guim.co.uk/img/media/fadba6acf2cbbee9b207f657fa3a55e3d62c4a82/955_1852_2320_1393/master/2320.jpg?width=605&quality=45&auto=format&fit=max&dpr=2&s=69e57ffce76012766896cf50880ccd85″,"width":1210},{"src":"https://i.guim.co.uk/img/media/fadba6acf2cbbee9b207f657fa3a55e3d62c4a82/955_1852_2320_1393/master/2320.jpg?width=445&quality=85&auto=format&fit=max&s=c4a5674e77149a6bd89226d0231f7321″,"width":445},{"src":"https://i.guim.co.uk/img/media/fadba6acf2cbbee9b207f657fa3a55e3d62c4a82/955_1852_2320_1393/master/2320.jpg?width=445&quality=45&auto=format&fit=max&dpr=2&s=749e5af208a5486e6512c83a0839fa28″,"width":890}]},{"weighting":"halfwidth","srcSet":[{"src":"https://i.guim.co.uk/img/media/fadba6acf2cbbee9b207f657fa3a55e3d62c4a82/955_1852_2320_1393/master/2320.jpg?width=620&quality=85&auto=format&fit=max&s=b37d52430845e0ac82c5af2c8ad951fa","width":620},{"src":"https://i.guim.co.uk/img/media/fadba6acf2cbbee9b207f657fa3a55e3d62c4a82/955_1852_2320_1393/master/2320.jpg?width=620&quality=45&auto=format&fit=max&dpr=2&s=8d0908fa087abded2868dde4547c61b9″,"width":1240},{"src":"https://i.guim.co.uk/img/media/fadba6acf2cbbee9b207f657fa3a55e3d62c4a82/955_1852_2320_1393/master/2320.jpg?width=605&quality=85&auto=format&fit=max&s=c821e64acd1def6079e7acd2d150f169″,"width":605},{"src":"https://i.guim.co.uk/img/media/fadba6acf2cbbee9b207f657fa3a55e3d62c4a82/955_1852_2320_1393/master/2320.jpg?width=605&quality=45&auto=format&fit=max&dpr=2&s=69e57ffce76012766896cf50880ccd85″,"width":1210},{"src":"https://i.guim.co.uk/img/media/fadba6acf2cbbee9b207f657fa3a55e3d62c4a82/955_1852_2320_1393/master/2320.jpg?width=445&quality=85&auto=format&fit=max&s=c4a5674e77149a6bd89226d0231f7321″,"width":445},{"src":"https://i.guim.co.uk/img/media/fadba6acf2cbbee9b207f657fa3a55e3d62c4a82/955_1852_2320_1393/master/2320.jpg?width=445&quality=45&auto=format&fit=max&dpr=2&s=749e5af208a5486e6512c83a0839fa28″,"width":890}]},{"weighting":"immersive","srcSet":[{"src":"https://i.guim.co.uk/img/media/fadba6acf2cbbee9b207f657fa3a55e3d62c4a82/955_1852_2320_1393/master/2320.jpg?width=1900&quality=85&auto=format&fit=max&s=bd7ffa20252f55f2c224b9842e4b97c3″,"width":1900},{"src":"https://i.guim.co.uk/img/media/fadba6acf2cbbee9b207f657fa3a55e3d62c4a82/955_1852_2320_1393/master/2320.jpg?width=1900&quality=45&auto=format&fit=max&dpr=2&s=fb025b9926a25705ea8505592856b400″,"width":3800},{"src":"https://i.guim.co.uk/img/media/fadba6acf2cbbee9b207f657fa3a55e3d62c4a82/955_1852_2320_1393/master/2320.jpg?width=1300&quality=85&auto=format&fit=max&s=ac1bf7d0d48ef80bfa288129cc79089a","width":1300},{"src":"https://i.guim.co.uk/img/media/fadba6acf2cbbee9b207f657fa3a55e3d62c4a82/955_1852_2320_1393/master/2320.jpg?width=1300&quality=45&auto=format&fit=max&dpr=2&s=2c5ff62963e86f956b24308dadb32adb","width":2600},{"src":"https://i.guim.co.uk/img/media/fadba6acf2cbbee9b207f657fa3a55e3d62c4a82/955_1852_2320_1393/master/2320.jpg?width=1140&quality=85&auto=format&fit=max&s=e6c9e44dd37ac2512e9a290471a3fde7″,"width":1140},{"src":"https://i.guim.co.uk/img/media/fadba6acf2cbbee9b207f657fa3a55e3d62c4a82/955_1852_2320_1393/master/2320.jpg?width=1140&quality=45&auto=format&fit=max&dpr=2&s=0eb92677922086a15fe56d44e51e35e4″,"width":2280},{"src":"https://i.guim.co.uk/img/media/fadba6acf2cbbee9b207f657fa3a55e3d62c4a82/955_1852_2320_1393/master/2320.jpg?width=980&quality=85&auto=format&fit=max&s=cf0f0af8dde497c590d04b508ee6cbd8″,"width":980},{"src":"https://i.guim.co.uk/img/media/fadba6acf2cbbee9b207f657fa3a55e3d62c4a82/955_1852_2320_1393/master/2320.jpg?width=980&quality=45&auto=format&fit=max&dpr=2&s=3ee3191885682d4aacc45c61d06560a0″,"width":1960},{"src":"https://i.guim.co.uk/img/media/fadba6acf2cbbee9b207f657fa3a55e3d62c4a82/955_1852_2320_1393/master/2320.jpg?width=740&quality=85&auto=format&fit=max&s=f9428c958892f84028d72db86e837e97″,"width":740},{"src":"https://i.guim.co.uk/img/media/fadba6acf2cbbee9b207f657fa3a55e3d62c4a82/955_1852_2320_1393/master/2320.jpg?width=740&quality=45&auto=format&fit=max&dpr=2&s=619c74a2f04b6788be04b7763cc2cc2c","width":1480},{"src":"https://i.guim.co.uk/img/media/fadba6acf2cbbee9b207f657fa3a55e3d62c4a82/955_1852_2320_1393/master/2320.jpg?width=660&quality=85&auto=format&fit=max&s=e7840bceb8bd887ed98d65f7ae2328a8″,"width":660},{"src":"https://i.guim.co.uk/img/media/fadba6acf2cbbee9b207f657fa3a55e3d62c4a82/955_1852_2320_1393/master/2320.jpg?width=660&quality=45&auto=format&fit=max&dpr=2&s=2a26c7bf7fb853e98f00143385711a79″,"width":1320},{"src":"https://i.guim.co.uk/img/media/fadba6acf2cbbee9b207f657fa3a55e3d62c4a82/955_1852_2320_1393/master/2320.jpg?width=480&quality=85&auto=format&fit=max&s=2c71081ff9869b16fc152a141c6ba4bb","width":480},{"src":"https://i.guim.co.uk/img/media/fadba6acf2cbbee9b207f657fa3a55e3d62c4a82/955_1852_2320_1393/master/2320.jpg?width=480&quality=45&auto=format&fit=max&dpr=2&s=900835280dde4f6a5121181e2473e11f","width":960}]}],"elementId":"02d161ea-5f1e-4a1c-9b70-131ef26b155b"}],"attributes":{"pinned":false,"keyEvent":true,"summary":false},"blockCreatedOn":1661991695000,"blockCreatedOnDisplay":"20.21 EDT","blockLastUpdated":1661991882000,"blockLastUpdatedDisplay":"20.24 EDT","blockFirstPublished":1661991748000,"blockFirstPublishedDisplay":"20.22 EDT","blockFirstPublishedDisplayNoTimezone":"20.22″,"title":"Serena Williams wins first set","contributors":[],"primaryDateLine":"Wed 31 Aug 2022 20.30 EDT","secondaryDateLine":"First published on Wed 31 Aug 2022 18.30 EDT"},{"id":"630ff3b38f08a2989bf54381″,"elements":[{"_type":"model.dotcomrendering.pageElements.TextBlockElement","html":"

The Australian advances 7-6, 6-4, 4-6, 6-4.

","elementId":"b234f770-b2b8-470f-93f9-0367713d88e7″},{"_type":"model.dotcomrendering.pageElements.TextBlockElement","html":"

Tommy Paul has defeated Sebastian Korda 6-0, 3-6, 4-6, 6-3, 6-4.

","elementId":"3c686878-ba89-455c-b17d-5aad85f4c95a"},{"_type":"model.dotcomrendering.pageElements.TextBlockElement","html":"

Top seed Daniil Medvedev faces Arthur Rinderknech on the Arthur Ashe Stadium court after Serena and Kontaveit wrap up, which may be a while as this game has gone more than 12 minutes.

","elementId":"5f81e461-5ef6-45a8-bc98-2bf136d439c9″}],"attributes":{"pinned":false,"keyEvent":true,"summary":false},"blockCreatedOn":1661989811000,"blockCreatedOnDisplay":"19.50 EDT","blockLastUpdated":1661990044000,"blockLastUpdatedDisplay":"19.54 EDT","blockFirstPublished":1661990044000,"blockFirstPublishedDisplay":"19.54 EDT","blockFirstPublishedDisplayNoTimezone":"19.54″,"title":"Nick Kyrgios defeats Benjamin Bonzi","contributors":[],"primaryDateLine":"Wed 31 Aug 2022 20.30 EDT","secondaryDateLine":"First published on Wed 31 Aug 2022 18.30 EDT"},{"id":"630fec068f08a2989bf54358″,"elements":[{"_type":"model.dotcomrendering.pageElements.TextBlockElement","html":"

Kontaveit serving. Crowd is subdued. Serena is wearing more glittery stuff.

","elementId":"db37560c-27f8-48bc-929c-8c84d34b35a0″}],"attributes":{"pinned":false,"keyEvent":true,"summary":false},"blockCreatedOn":1661987846000,"blockCreatedOnDisplay":"19.17 EDT","blockLastUpdated":1661987882000,"blockLastUpdatedDisplay":"19.18 EDT","blockFirstPublished":1661987884000,"blockFirstPublishedDisplay":"19.18 EDT","blockFirstPublishedDisplayNoTimezone":"19.18″,"title":"We're underway!","contributors":[],"primaryDateLine":"Wed 31 Aug 2022 20.30 EDT","secondaryDateLine":"First published on Wed 31 Aug 2022 18.30 EDT"}],"filterKeyEvents":false,"format":{"display":0,"theme":2,"design":10},"id":"key-events-carousel-mobile"}">

main events
* Williams 7-6 0-2 Kontavit (* – indicates the next server)
So, at this point, Kontaveit will definitely have a gag. right?
no. The second seed simply hits it where Serena doesn't expect to go, leaving the legend flat-footed, which is a routine.
Williams 7-6 0-1 Kontavit * (* – indicates the next server)
So, at this point, Kontaveit will definitely flex. right?
no. Serena shoots to go 0-30, Kontaveit draws the line up from 0 to 40. Then it's a clean break-in-love winner.
Serena Williams wins the first set
Serena gets a definite point in a comfortable walk. She shuts it off.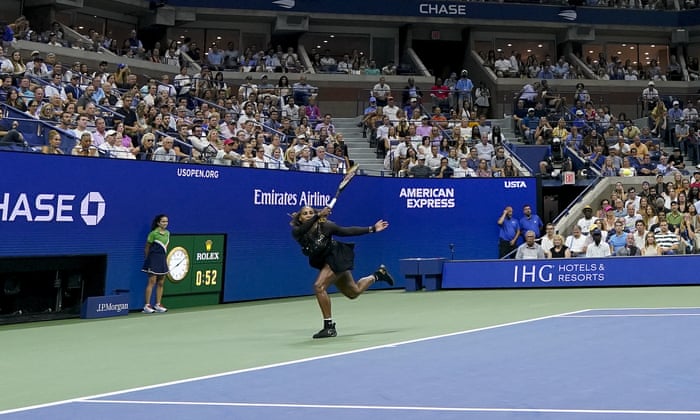 When the group crosses the one hour mark, Serena goes to change her serve, choosing center over strength. Kontaveit is working on a comeback, but Serena is practicing for her next shot on the line. She then returns to power, with Kontaveit unable to bring her back into play. 4-3 Serena.
The chair referee warned the public not to make noise after Kontaveit service errors. Not much, though. But it's too loud when Kontaveit, perhaps worried about Serena charging the nets, misses again. Short break for Serena, 5-3.
Then Serena made her best comeback of the match, inexplicably reaching a perfect and powerful serve. Then I made an unintended mistake in the next shot. Make the hard shot, you missed the easy one. 5-4
tie breaker…
Kontaveit started with a header and then successfully sent Serena back. But Serena wins the point and makes quick work of the next stage to take a 2-1 lead.
However, Serena's next comeback goes straight into the net. 2-2
Send Kontaveit first goes to the net. Will Serena demolish the second transmission? Well kinda. I got the net rope, and while it's in play, Kontaveit can play with it, and Serena's next shot finds the net. 3-2
Williams 6-6 Kontavit
It may have been a little strange over these two previous games, but Serena's serving is still going strong. She follows a double foul (making it 30-30) with an irreversible first serve and wins a short rally to force the tiebreak.
* Williams 5-6 Kontavit (* – indicates the next server)
Serena still has Kontaveit's second contacted serve back. I rip one down the line to make this 30-30 game.
Kontaveit responds by sending Serena barely reaching him, then another puts in a perfect shot. Serena's gonna stay in it.
Williams 5-5 Kontavit* (* – indicates the next server)
Serena's first set isn't delivered yet. An involuntary foul leads Kontaveit to a 0-30 lead, and Serena appears suddenly frustrated by the first serve cannon. This is followed by a scintillating 20-shot rally, with Kontavit keeping Serena balanced with the grotesque cut-out shot mixed with power. Suddenly, the second seed had three break points.
shred. Make it two.
But a double mistake ends it. We level. The crowd is astonished. And if Serena's sending deserted her, that'd be tough.
* Williams 5-4 Kontavit (* – indicates the next server)
The second point is a literally basic battle, with both players taking shots that barely remain in play. It's an exciting crowd-motivating gathering, with Serena opposing to cover the pitch well to make a comeback.
Weyak. Kontaveit hits one unnecessarily long, and Serena has another stopping point. This is her sixth.
And after being rescued by the net rope once, Kontaveit struck tall again. Finally, Serena got a break, and she'll be working on the set.
Williams 4-4 Kontavit* (* – indicates the next server)
What nerves? Kontaveit hits her.
But Serena is officially defying the years, struggling not only to get a choppy shot, but hitting a winner out of it. This puts it at 40-15, and the next serve is irreversible.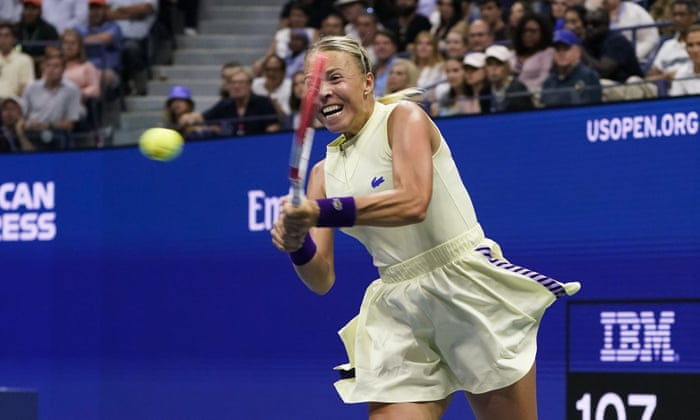 * Williams 3-4 Kontavit (* – indicates the next server)
A missed opportunity for Serena, as he gave up three break points in an epic seventh match. Sliding off the baseline didn't help, but Serena doesn't appear to be injured.
Nick Kyrgios defeats Benjamin Ponzi
The Australian led 7-6, 6-4, 4-6, 6-4.
Tommy Paul Defeated Sebastian Korda 6-0, 3-6, 4-6, 6-3, 6-4.
top seed Daniel Medvedev faces Arthur Rinderknech At Arthur Ashe Stadium after the conclusion of Serena and Kontaveit, which may take some time because this game has passed more than 12 minutes.
(The game is still going on)
How is the commentary where you watch around the world? In the US, it's a bit too condescending to Kontaveit, as if they were describing a gymnast trying to avoid a bad fall.
The point of curiosity here is the 40-30, where Serena's comeback literally knocked Kontavite. She quickly got back to her feet, only to see Serena's shot hit the netting rope and drip over that point.
Kontaveit did well to take advantage and then hit the net at the end of the best rally of the match so far. The crowd cheered, as some applauded every time Serena's opponents made mistakes in her first two matches.
To their credit they were much higher after Serena's impressive comeback, once again punctuating a second serve to let Kontaveit falter.
The reticular cord gives off and the retinal cord emerges. In deuce (again), the rope saved Kontaveit's wide-going shot, giving her another chance to serve the game. But again – it's a second transmission, and Serena, she just installs it.
It's pretty simple here, although the US Open doesn't give us stats for the night. When Kontaveit makes its first serve, it usually wins the point. When you have a moment, you are in deep trouble.
We have an unexpected epic in an American men's match in the Coliseum, where Tommy Paul He won the first set 6-0 but is now in the fifth and fourth set against Sebastian Korda.
while, Nick Kyrgios It has risen 5-4 and has three break points.
Williams 3-3 Kontavit* (* – indicates the next server)
"Serena gets on the nerves on the other side of the court," Evert says. This, or they pay off solidly in good standing.
At least, it was, until I went 40-0 and followed that up with a double fault, a poor second serve and a crowd that finished off Kontaveit well.
Serena's next sending is very good, which is 3-3.
* Williams 2-3 Kontavit (* – indicates the next server)
Serena is looking to pounce on the second serve and does so to close the gap to 30-15. Chrissy Evert, who has commented with John McEnroe and Chris Fowler on ESPN, thinks Kontaveit seems unsure of herself.
Kontaveit then easily wins the next point and rips a winning serve to close the game.
If Kontaveit gets on the nerves and is still doing it well, what happens if confidence starts flowing?
In fairness, her second transmission was pretty weak. But she seems no less fearful of Serena's power.
Venus Williams now sits in a Tiger Woods 2-seater.
Williams 2-2 Kontavit* (* – indicates the next server)
Kontaveit certainly looks alert. Serena rushes into the net in the midst of a rally, and the second seed simply tears her up, leaving Serena only to watch. The booming serve settles the game, and they exchange points to get to 30-30.
Then we get our first shot of the game's highlight reel, an amazing and amazing service from Kontaveit. Breaking point, but Serena's next three serve is much better.
So the bad news if you're rooting for Serena is that she doesn't seem dominant. But the good news is that Kontavit doesn't do that either. Serena looks like money here, not a 2-1 loser.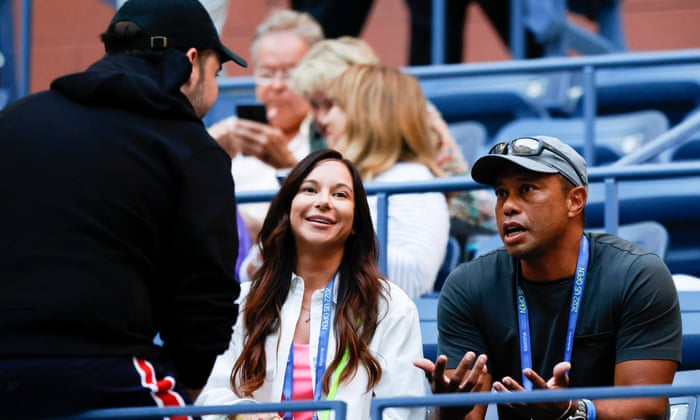 * Williams 1-2 Kontavit (* – indicates the next server)
Serena takes the first point but drops the next in a shot that drops too soon. But Kontaveit hits the net and falters at the next point to give Serena two break points. The first is lost on the long return. Kontaveit erases the second b ace.
At Deuce, Serena unleashes the power, striking a powerful, deep comeback. But Kontaveit handles it brilliantly, and Serena hits one. Serena appears to be the best in the next race, but Kontaveit rushes to cover a shot in the frontal area and pierces it over the net and onto the goal line.
Celebrities spotted on ESPN so far: Tiger Woods and Dionne Warwick.
Williams 1-1 Kontavit* (* – indicates the next server)
Kontaveit scores at first with relative ease, but then Serena finds her serve and rocks with three devastating shots. The next rally ends with an inadvertent mistake, and so do we.
* Williams 0-1 Kontavit (* – indicates the next server)
Well, that sounded a lot like the number 2 player in the world serving a rusty, low rated player. Kontaveit catches love.
Kontaveit service. The crowd fainted. Serena wears more shiny things.
Another note from the Kyrgios match: the high tangled Australian called someone in the crowd to smoke weed.
Meanwhile, the winner of the other match I watched on Monday, Australia Nick KyrgiosHe dropped the third set but still leads two sets to one Benjamin Ponzi.
And now we get a video of him telling him Queen Latifah. It was called the "Queen of Queens", in reference to New York City that hosts this tournament and where I was stuck in traffic a few days ago.
ESPN shows Beyoncé's video again. We should be within 30 minutes or so of playing.
(And most seriously, it's rolled out at 7:15 ET, so maybe we're less than 15 minutes away?)
We can check in the training court that her warm-up gear was a bit more dim than what she was wearing on Monday.
While we wait, we should note that two generations (well, half a generation) of American players inspired by the Williams sisters will meet in the third round. Coco Guff He is still only 18 years old, She defeated Romania's Elena Gabriella Ross 6-2 7-6 in the Grand Stage at Arthur Ashe Stadium. You will face 27 years Madison Keyswho was pushed to the limit to beat Italy's Camila Giorgi 6-4, 5-7, 7-6 after trailing 2-5 in the third set.
Gauff is ranked 12th. Keys, who played at the slightly smaller Louis Armstrong Stadium, is 20th. Keys won her only match earlier this year in Adelaide.
Welcome to the last game that could be very good Serena WilliamsA career path is a career path.
Even with some rust and distraction brought on by the endless pomp and circumstance, Serena was expected to outshine. Danka Kovinich In the first round, I did. Tonight, she's almost a 2-1 underdog against the second seed Estonian Annette Kontaveit.
It's strange that they never played with each other, which is a testament to how little Serena has really played over the past couple of years.
Beau will be here soon, with the match Scheduled to start around 7.30pm local time (9.30am AEST / 12.30am GMT). Meanwhile, here's a little pre-game reading: