Warning to fans good fight: The sixth and final season looks different. The original Paramount+ returns after its fantastic fifth season – which included COVID hallucinations and Hal Wackner's court of transcripts – with an even more silent and realistic vibe. There are no Epstein-scale plots or fictional political characters appearing in the scenes, even Jonathan Colton's lover Schoolhouse RockMethod explanations are missing. It's too much good fight Stripped of its essential surrealist trademarks, the show concludes with an examination of our current most pessimistic cultural climate.
Part of the Season 6 mute comes from Diane (Kristen Baransky), who takes a back seat this time. After challenging her white feminist ideals throughout season five, which ended with her agreeing to step down as partner, the daring lawyer returns from vacation to a new office on the colleagues' floor. Declining progress, both in her career and in our world after the end of Roe v. Wade, has left Diane feeling stuck in an episode of deja vu. So I turned to Dr. Lyle Bettencourt (John Slattery) for a somewhat hallucinogenic prescription called PT108. While the chemistry between Baranski and Slattery is straightforward, the extended time with High Diane is the strong point of this subplot, with callbacks to previous seasons where it wrought through meticulous potions and weed glue.
Meanwhile, the struggle for control of the company falls on Liz (Audra MacDonald) and new partner, Ri'Chard Lane (Andre Braugher). Lane works by bragging and prayer, rocking the office from the moment he gets off the elevator and running the largest office on the partners floor, collecting colleagues and moving artwork as Liz walks out on court. The duo's struggle continues with the partner power struggles that were common in both of them good fight and its predecessor the good Wife. And while it seems like a paraphrase at first, fortunately, any hint of a rut dissolves when Liz (and the audience) begins to see the raucous show wearing Ri'Card as armor.
Amidst the lawyers' daily days, there is a war going on. Season 6 contains the most (and perhaps most ambitious) episode of the two series, with constant protests that get more sinister (flash grenades, tear gas) and an unmistakable episode.
G/O Media may get commission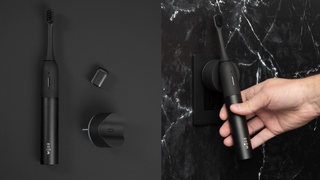 Magnetically Docking
Mode Electric Toothbrush
Luxury brushing
Mode is the first magnetically charging toothbrush, and rotates to dock in any outlet. The brushing experience is as luxurious as it looks—with soft, tapered bristles and a two-minute timer to be confident you reached all the crevices of your molars.
Each of the Reddick/Boseman/Lockhart/Ri'Chard (it barely matters whose name is on the marquee at this point) lawyers have different responses to this omnipresent tension. Carmen keeps moving forward, taking on more criminal clients and immersing herself in a danger she can control. In a callback to season three's Melania Trump storyline, Liz tries to find common, apolitical ground with a prominent conservative. Meanwhile, Marissa and Jay slowly switch their focus from court battles to the streets, with different reactions to the violence. There's always been a hint of existential doom floating through The Good Fight, but now the threat of death gets right into the characters' faces.
The Good Fight | Season 6 Official Trailer | Paramount+
This final season is a love letter to both The Good Wife and The Good Fight, delighting in several throwback nods even before fan-favorite characters like Eli Gold (Alan Cumming) and Elsbeth Tascioni (Carrie Preston) pop up. Such tributes can sometimes make a series' final season feel like an assignment for diehard fans, but these, especially Eli and Marissa's multi-episode father-daughter plot, keep the show exciting, as does the addition of Braugher. Whether it's through an appearance or a mention, several major characters get their moment, with more to hopefully come in the back half of the season—and, yes, that includes Alicia Florrick. (We watched five episodes for this review.)
Within the weekly cases and the familiar faces and dynamics, The Good Fight seems to be ending in a way that honors six seasons of excellent TV and also acknowledges that constantly fighting the good fight can be exhausting. As always, it encapsulates the national mood, which currently includes a good amount of burnout and dejection. It's comfortable with being bleak, though, because joy still shines through, letting us laugh at the absurdity from time to time. And that awareness of the beauty within the bullshit is why this final season, like the ones that came before it, is a must-watch.